Shivon O'Brien
Interactive, Responsible Child Care in the Lake Tahoe Area
(775) 247-7566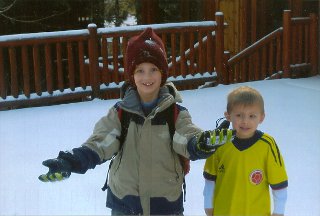 Stacy Combs, Incline Village NV
Shivon nannies often for my three children, ages 9, 8 and 6. Shivon has a kind-hearted, patient and nurturing personality. I've often called her last minute and she's rearranged other work projects to help me out. She is very dependable and I feel blessed to have her as a part of my children's lives. She goes above and beyond her duties. A typical day includes transporting the kids to local activities and making their day adventurous! She even took my two older kids skiing for a day when they were on winter break (she's a certified ski instructor). I highly recommend her as a nanny.
If you have further questions, please feel free to contact me at 3combs@gmail.com.
Sincerely, Stacy Combs
Brenda and Jason Webb, Kings Beach CA
We are pleased to offer this letter of recommendation for Shivon O'Brien. Shivon is currently employed by us for an average of 16 hours per week caring for our 16 month old daughter. She began working for us over a year ago when our daughter was only three months old. We were introduced to Shivon at the strong recommendation of another family that she had previously worked for and, like them, we too would highly recommend her to any family seeking childcare. For us, Shivon has full charge of our baby for over eight hours per day, regularly preparing simple meal s and also doing light housekeeping when needed. On occasion, she has also willingly and competently watched our nine year old twins in addition to the baby. As a mother, I know that caring for three young children takes energy, creativity, and patience, all of which Shivon has in spades. All of our children react warmly to Shivon and enjoy having her as a caregiver.
During the course of the past year Shivon has proven to be a very responsible individual and has never missed a day of work without ample notice. We love that she is loving and calm and that she has a warm and nurturing spirit. We feel completely comfortable leaving our children in her care and have never been given any reason to think otherwise. We cherish Shivon and feel very fortunate to have her caring for our children. We wish Shivon the very best with any future endeavors and know that she will certainly be missed when and if the time comes for her to move on.
Please feel free to contact us if there are any questions that we can answer or if we may be of further assistance. Sincerely, Brenda and Jason Webb
Vinita Busse, Incline Village NV
Shivon has been our nanny in Incline Village for the last 2 years for our 3 boys now aged 9,7 and 5 and we are sad to lose her because we are moving away. We would highly recommend her to any family seeking childcare. She provided a very warm and nurturing environment while assisting with caring for our boys, homework, preparing their meals and light housekeeping. She carried out her duties with the utmost care and pride. What we loved most about her was the joy she brought our boys with her warmth, kindness, generosity and extremely loving nature. The boys looked forward to their time with her and found her to always be engaging and fun. Additionally, we found that we could always communicate candidly with Shivon with regard to our expectations around childcare for our boys and she was always willing to adapt to the needs of our household.
Please feel free to get in touch with me if I can provide any additional background on Shivon. Best Regards, Vinita Busse
Cecilia R. Sanchez, Incline Village NV
I have personally known Shivon O'Brien for ten years. She is an established member of the local community. She is highly moraled. Shivon has donated a lot of her time to tutoring young children. I as a mother noticed my eldest son Blake significantly improved upon his writing skills! I believe Shivon was an asset to his success as a student in high school. He will be well equipped for college. My youngest son, David, significantly benefited from Shivon's expertise as a new learner. David was a third grader at the time and I believe Shivon had a positive impact on his self esteem, giving him the building blocks for continued success in completing the third grade. I Cecilia R. Sanchez highly recommend Shivon O'Brien as both a professional tutor as well as a teacher. Shivon tutored both of my children Blake and David at the elementary level as well as in secondary education. I strongly believe Shivon O'Brien will be an asset to the school district in which she works because it is apparent that she has a strong sense of self, academic intelligence and a focused loving repoire with children!
Cecilia R. Sanchez Director of Religious Education St. Francis Catholic Community
Childcare and babysitting in your home, hotel, or vacation rental.